Express Watersports organizes various dive trips in the off-season for our those who want to explore new dive sites, experience new underwater adventures and have fun with fellow divers! These dive trips are also great for dive training and scuba certifications!
Crystal River, Florida
Springs and Manatee Dive
October 13-15, 2017
$349 per person, four to a room
Coastal Carolina University's Aqua League Only
Join the dive shop as we head down to the Florida Springs. These natural sink holes are spring fed and offer gin clear visibility. The Florida Springs are calm bodies of water with depths ranging from 15-65 ft.
These trips usually depart on Friday and return on Sunday night. 3 days of diving and 2 nights lodging . The water temp in the Springs is a constant 72 degrees year round. So if it's cold here you will love the Springs. All boat dives, Park Fees, Lodging and Scuba Gear is included!
One of our dives will be Kings Spring where the manatees are hanging out. These gentle creatures were on the endangered list and are now being closely monitored. Its always a treat to see these gentle animals up close! Dive students are welcomed on this trip and can finish their certifications!!!
---
Roatan Underwater Photo Fest with Raak Bottom Imaging
Turquoise Bay Dive & Beach Resort, Roatan, Bay Islands of Honduras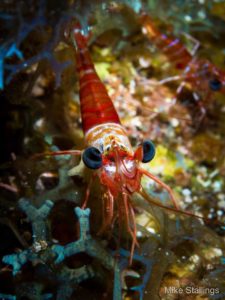 Next Trip: September 23-30, 2017
Join Raak Bottom Imaging at the Roatan Underwater Photo Festival for a week full of experience and adventure. At the Roatan Underwater Photo Festival, you'll learn how to get the best underwater photos possible; not just for the week, but for your entire diving life.
What is the Roatan Underwater Photo Festival?
At the Roatan Underwater Photo Festival we will spend this week full of experiences and adventure! We will show you how to get the best underwater photos possible; not just for the week, but for your entire diving life. You will have the chance to experiment with your camera to see what works for you and what does not. Every day we will have a seminar where we'll explore both Point & Shoot and SLR camera opportunities and talk about what seems to work best with both type of cameras. Each day will build on what you learned the day before and we'll be in the water a lot to practice and experiment. Most importantly, we'll us a "share to learn" technique. We'll look at photos that have been shot during the day, not to criticize, but to learn. As a group we will talk about what the sample photos do well and what we might do to alter the shots. By sharing our ideas, we all learn more quickly and perhaps find different approaches that we would never have discovered individually. This is not a photo contest or shootout. Seminars would be conducted every evening and the hosts/photo pros will be diving with the participants on every dive. Afternoon (optional) dives will include a pro on the boat and a pro available on land to answer questions for those who chose not to dive.
What's Included
7 nights accommodations
Complimentary shuttle service to airport or pier
3 meals daily including non alcoholic beverages
6 days of boat diving
Tanks, weights, lockers, boat rides and camera room
Seminars by the hosts every night including presentation of "demo" equipment
Nighttime entertainment including live music and cultural shows
Lounge chairs and beach towels at pool and beach
Complimentary wireless internet access
Prices
Diver: Price per person, double occupancy: $1299 + %19 taxes – Standard Garden View Room with Double Beds
Non-diver: Price per person with diver in Standard Garden View Room: $699 + %19 taxes
Diver: Price per person, single occupancy: $1469 + %19 taxes
For more information, or to sign up for the trip, visit http://www.raakbottomimaging.com/product/roatan-underwater-photo-festival/
---
Saba Dive Trip with Raak Bottom Imaging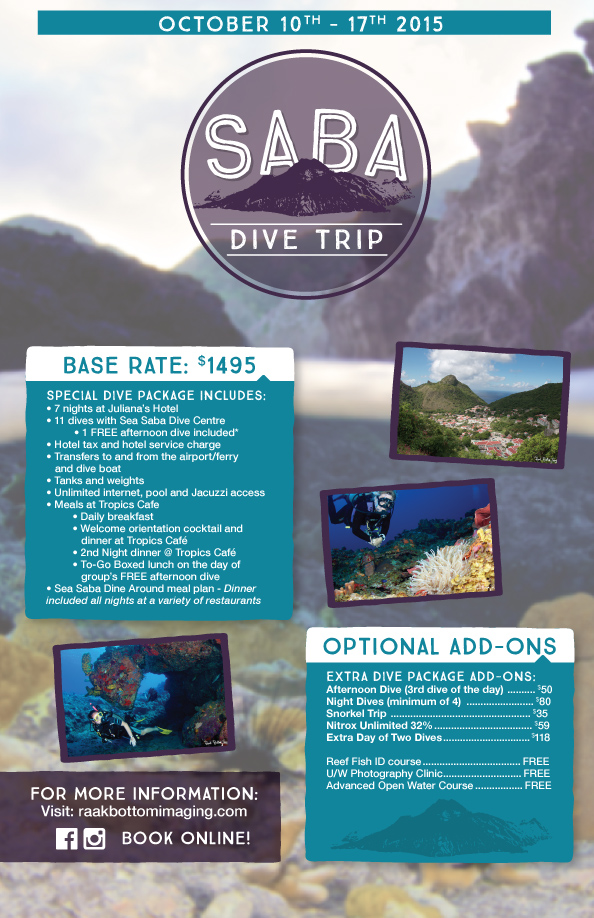 Dates: October 8-14, 2017
2017 Prices TBA

About the Trip
Raak Bottom Imaging is hosting an exclusive dive trip to Saba this October. Saba is located in the Caribbean and is known for its excellent diving. There are about 150 species of fish found in Saba's waters. If you're looking for a unique travel destination, look no further than Saba.
What's Included
• 7 nights at Juliana's Hotel
• 11 dives with Sea Saba Dive Centre *1 FREE afternoon dive included
• Hotel Tax and Service Charge
• Transfers to/from the airport and dive boat
• Unlimited internet, pool and Jacuzzi access
• Tanks and weights
• Meals at Tropics Cafe:
*Daily Breakfast
*Welcome orientation cocktail/dinner
*Group BBQ (2nd Dinner)
*To Go Boxed Lunch on the day of group's FREE afternoon dive
For more information, email Andrew Raak at tasraak@gmail.com