Express Watersports organizes various dive trips in the off-season for our those who want to explore new dive sites, experience new underwater adventures and have fun with fellow divers! These dive trips are also great for dive training and scuba certifications!
Crystal River, Florida
Springs and Manatee Dive
January 19-21, 2018
$349 Four to a room
$395 Two to a room
Join the dive shop as we head down to the Florida Springs. These natural sink holes are spring fed and offer gin clear visibility. The Florida Springs are calm bodies of water with depths ranging from 15-65 ft.
These trips usually depart on Friday and return on Sunday night. 3 days of diving and 2 nights lodging . The water temp in the Springs is a constant 72 degrees year round. So if it's cold here you will love the Springs. All boat dives, Park Fees, Lodging and Scuba Gear is included!
One of our dives will be Kings Spring where the manatees are hanging out. These gentle creatures were on the endangered list and are now being closely monitored. Its always a treat to see these gentle animals up close! Dive students are welcomed on this trip and can finish their certifications!!!
---
Key Largo, Florida

Spring Break March 4-8, 2018
Must be Advanced Open Water Certified or higher
$699 Four to a room
$799 Two to a room
Join the Dive Team as we head to the Keys for Spring Break! We are heading to Key Largo for some great diving! This trip will be both wreck diving and reef diving.
This year we are joining with Coral Restoration Foundation and building a coral reef system in the Marine Park. This is an awesome dive trip to dive on some excellent coral reefs in a marine park. This trip is open to divers and snorkelers.
All of the dives will be deep dives, so an Advanced Open Water certification or higher is required. See a living coral reef system up close and personal. Excellent opportunity to observe a coral reef system as it is protected in a marine park.
Price Includes:
3 Days of Diving 2 tanks; 4 nights lodging with free breakfast
• Air Tanks
• Weights
• All room and dive taxes paid.
Not Included:
Transportation, drinks and food not included.
Additional dives available for a fee (afternoon and night dives)
---
Saba Dive Trip with Raak Bottom Imaging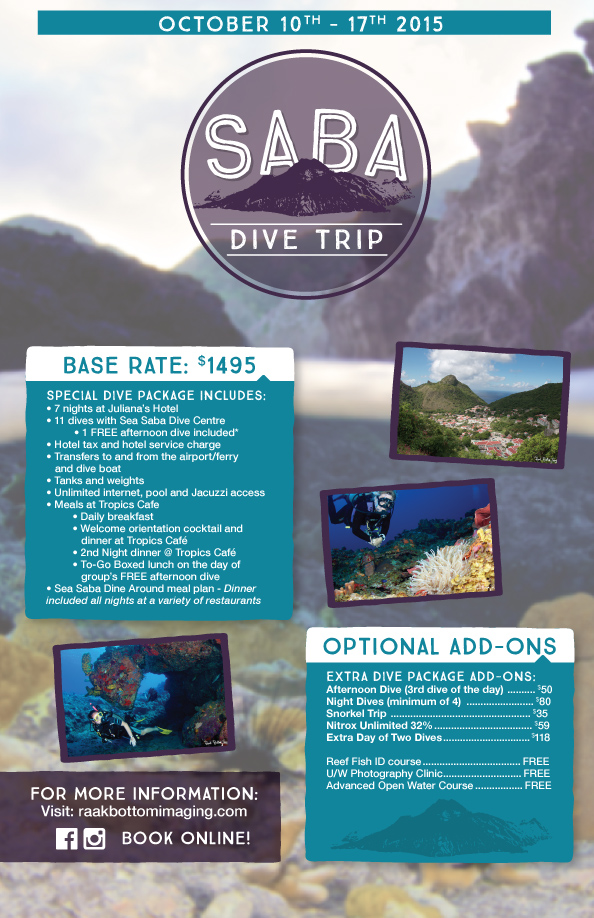 Dates: October 8-14, 2017
2017 Prices TBA

About the Trip
Raak Bottom Imaging is hosting an exclusive dive trip to Saba this October. Saba is located in the Caribbean and is known for its excellent diving. There are about 150 species of fish found in Saba's waters. If you're looking for a unique travel destination, look no further than Saba.
What's Included
• 7 nights at Juliana's Hotel
• 11 dives with Sea Saba Dive Centre *1 FREE afternoon dive included
• Hotel Tax and Service Charge
• Transfers to/from the airport and dive boat
• Unlimited internet, pool and Jacuzzi access
• Tanks and weights
• Meals at Tropics Cafe:
*Daily Breakfast
*Welcome orientation cocktail/dinner
*Group BBQ (2nd Dinner)
*To Go Boxed Lunch on the day of group's FREE afternoon dive
For more information, email Andrew Raak at tasraak@gmail.com