Sunset Cruise Myrtle Beach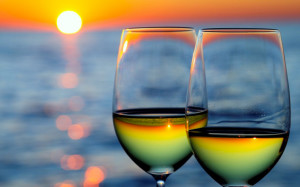 Sunset Cruises are simply the best! There is no better place to watch a Myrtle Beach sunset than from the deck of our boat!  The sunset hours are a magical time to be out on the water. With the winds calm, the sun turns golden and paints the sky in a palette of hues and colors that seem almost unreal. There is no way you cannot be taken by it. The clean ocean air, vast sky, and unbelievable sunset colors will connect you with nature and give you a feeling of relaxation and happiness that most people don't get to experience. Join us for our Sunset Cruise in Myrtle Beach / Murrells Inlet and enjoy beautiful views and have a relaxing time. You're on vacation.. live like it!
What to Expect from the Cruise:
This slow paced sunset cruise begins at our private dock in Murrells Inlet. Guests board our vessel and gently cruise through the waters of Murrells Inlet, watching the sun slip behind the serene horizon. Have your picture taken and enjoy complementary beverages as we slowly cruise back to the dock! Enjoy the views, breathe in the fresh air, and have a great time on this relaxing boat cruise!
What to Bring:
Valid, Government Issued Photo I.D.
Camera
Gratuities Customary
Highlights
Complementary Rum Punch, White Wine, and a Fruit & Cheese Platter provided by Inlet Affairs. We also have Soft Drinks and Water on board at no additional charge!
Bathroom On Boat
Cruise is approximately 1 hour in duration Wednesday-Sunday
Rates
$30 adults
$25 kids 12 years old and under
Kids 2 and under free
Important Note!
All reservations must arrive 30 minutes before departure time so that we may check your group in. A full charge will occur for any reservations that do not show up for the reserved departure time! If you need to change or cancel your reservation, you must call 24 hours before your departure/rental, or you will be charged. We welcome walk-ups but reservations are suggested.
Guests should consider their physical fitness level and medical history when determining whether this ride is appropriate.  Guests with cardiac conditions, asthma, diabetes, epilepsy, other heart or respiratory conditions and/ or previous back or neck injury or any other medical condition should take particular caution when selecting this activity.  Guests who have concerns should consult with their personal physician before engaging in any activity that may be strenuous for them.
Sunsets occur every evening! Due to mother nature, cloud cover or other atmospheric conditions, Clear views of Sunsets are not guaranteed.
Use the calendar below to select your date and book online!
Sunset Cruise Photo Gallery
Sunset Cruise FAQs