What to Expect on our Myrtle Beach Parasailing Adventure
Express Water Sports offers a complete Myrtle Beach parasailing service that is the safest on the Grand Strand. It's also THE HIGHEST and LONGEST flight in the Grand Strand! Fly high above the Atlantic Ocean up to 500 ft in the air and a full 10-12 min flight time! Our Ocean Pro 31′  Coast Guard inspected parasailing boat can hold up to 12 passengers. We have developed our own method for ensuring each of our passengers receives the safest and most enjoyable ride possible! Our friendly and knowledgeable captain, crew, and staff would be happy to answer any questions or concerns you may have. So what are you waiting for? Try parasailing in Myrtle Beach today!
Our Parasail shuttle is a Rigid Inflatable Boat Certified by the USCG. This boat will be used on high volume days.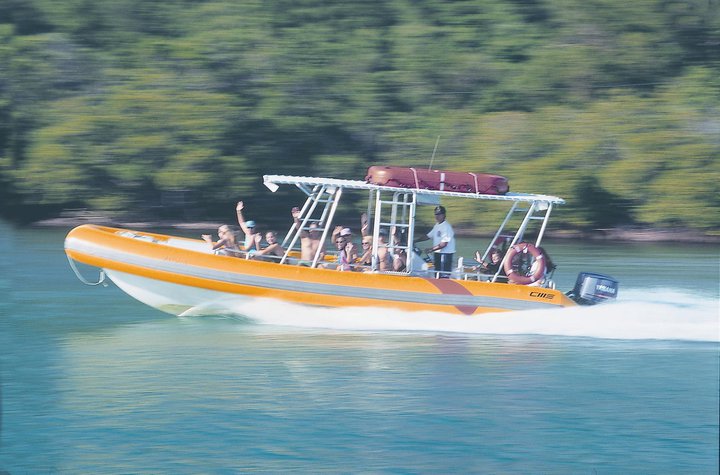 This is an actual boat that meets the parasail boat. Stay Dry!
Please Note! Guests with Physical Disabilities please call ahead to arrange a time for the original Dock loading departure times as these will now vary depending on demand.

Myrtle Beach Parasailing Highlights
Load and unload at dock!
Fly single, double or triple. Up to 3 people at a time!
Take off and land on the boat!
No lines, no waiting, we take reservations!!!
Free parking, restrooms, showers, & changing rooms available
Highest & longest flights: 500 ft high 10-12 min flight time!
Refreshing dip in the water (or not!)
Spot dolphins, sea turtles, and other oceanic life
Enjoy a birds-eye view of the Myrtle Beach coastline
Safe and secure with an experienced Captain and crew
USCG Inspected boats Certified for your safety!
Private Trips available Please call!
Parasailing Prices:
Our rates are based on departure times and higher or lower demand! Please check our booking calendar or call for the best rates in the Myrtle Beach area! 843-357-7777
What to Bring:
Flip Flops
Bathing suit (recommended)
Towel
Sunscreen
Gratuities Customary
Important Note!
All reservations must arrive 30 minutes before departure time so that we may check your group in. A full charge will occur for any reservations that do not show up for the reserved departure time! If you need to change or cancel your reservation, you must call 24 hours before your departure/rental, or you will be charged. We welcome walk-ins, but reservations are suggested.
Safety! A Step Above the Rest!
Express Watersports has an excellent safety record. Our Parasail vessel is one of only 2 boats out of 19  boats on the Grand Strand that are USCG Inspected. Our boat is inspected by the United States Coast Guard during our annual Safety Exam. The crew and the Captain must demonstrate man-overboard drills, Fire Safety Drills and CPR First Aid to the attending USCG Marine Safety Officer. All personnel are required by USCG to be enrolled in a mandatory drug testing program. In addition to this, our boat is one of few that has XM weather radar and wind speed updates for the most up-to-date weather information. We make your parasailing experience fun and most importantly: SAFE!
We are also inspected by the FAA and members of (WSIA) Watersports Industry Association! Fly with the best Myrtle Beach parasailing operation this vacation!
This is our 19th year of parasailing! We have safely flown over 100,000 people! So, sit back & relax we are going to have fun!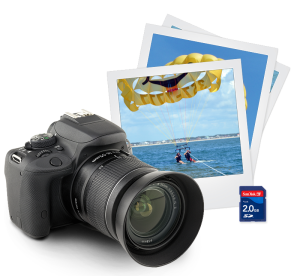 Parasailing Photo Package – $25
Get your picture taken while parasailing in Myrtle Beach! Our crew will take 50+ photos of just your group while on the boat and up in the air! At the end of the trip you will get a 2GB SanDisk (SD) card with ALL of the pictures on it. A great way to share your experience with friends and family on Facebook or get prints!
Parasailing Photo Gallery
How do I make reservations?
All parasailing requires reservations are to be made in advance! We only take reservations for Flyers. We do allow spectators on our boat at the time of departure, if we have availability, for a reduced fee. For those participates that are under the age of 18 years old, please be advised that a parent or guardian is not guaranteed a rider seat to accompany their minor. To reserve your seats you can call or book online. Our friendly staff will be able to answer any questions and concerns you may have.
SO CALL US TODAY! 1-(866)-566-9338 or (843)-357-7777
Disclaimer:
Parasailing is a great and fun activity. We do, however, parasail in the open ocean. Sea conditions can change from time to time. Be advised that some may become sick even in the smallest sea or calmest ocean. We will manage our flight operation and try to stay in the calmest waters possible. We will not compromise safety! If the Captain makes a call on the weather we will bring you back to the dock and you can reschedule for another time/day or get a full refund. All boats load and unload from the dock. High volume days we will use a Parasail Shuttle that is an actual boat that meets the parasail boat.
It is recommended that guests wear bathing attire as you may get wet!!  Please note that to participate, guests must be a minimum of 5 years of age and not exceed 250 pounds. Guests will be required to sign a waiver to participate.
***Note: Women who are pregnant may not participate. Guest with heart,lung or back problems may not participate. Guests who have been drinking alcohol or under the influence of drugs may not participate*****
Guests should consider their physical fitness level and medical history when determining whether this ride is appropriate.  Guests with cardiac conditions, asthma, diabetes, epilepsy, other heart or respiratory conditions and/or previous back or neck injury or any other medical condition should take particular caution when selecting this activity.  Guests who have concerns should consult with their personal physician before engaging in any activity that may be strenuous for them.
Important Notes!
This vessel goes into the Atlantic Ocean.  Guests who suffer from motion sickness should take precautions. This activity could be subject to adverse sea conditions such as high winds, waves, and sea current.
Parasailing FAQs