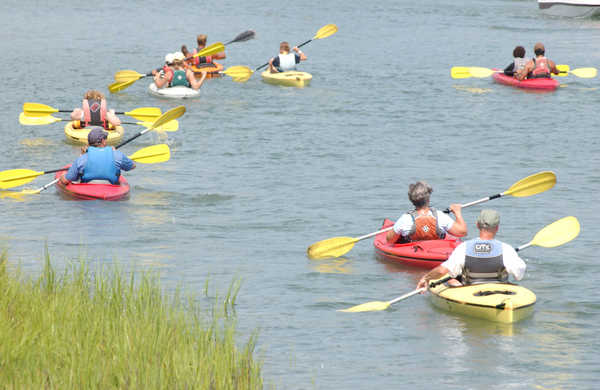 Kayaking in Murrells Inlet
Our Murrells Inlet / Myrtle Beach kayak rentals and tours offer a wealth of knowledge, fun and exploration! We invite you to enjoy a scenic paddle in the Murrells Inlet tidal marsh of South Carolina. Enjoy the vast wildlife and fascinating history of Murrells Inlet.
We rent single and double kayaks by the hour and you may explore the Inlet on your own! No reservations required. Boats are already on the dock ready to go!
OR
Kayak Guided Tours with our own naturalist-guided will take you on a scenic journey through the marsh, while you take in the salty air and beautiful scenery on our Kayak Tour. Your friendly and knowledgeable naturalist will teach you about the history, as well as the inhabitants of Murrells Inlet.
Self-Guided Tours (Rentals)
All kayak rentals include the kayak (single or double sizes), paddle, and PFD (personal flotation device) Boats are already on dock ready to go!
See snowy egrets, osprey, and various other wildlife
Free Parking, Restrooms, showers, & changing rooms available
No Reservations Required!
There are no set departure times for kayak rentals, so you have the freedom of choosing when to go! Kayaks are first come, first serve. If you would like to call ahead to check availability, please do so!
Rates:
Single Kayaks:
$15/hr or $40/half day
Double Kayaks:
$20/hr or $50/half day
Sunrise Guided Kayak Tours
Our Murrells Inlet / Myrtle Beach kayak tours allow you to explore the immensely productive saltwater ecosystem of Murrells Inlet on a naturalist-guided tour.  Inhabiting the cord grass marshes is a rich fauna of clams, crabs, shrimp and oysters with a host of bird species from pelicans to egrets. Your guide will show you around and show you points of interest.
Rates:
$30 per person
Reservations Required
Photo Gallery
It is recommended that guests wear bathing attire . You may get wet! Guests may encounter waves or boat wakes that may cause the kayak to tip over. Guest should be prepared for tipping as this does happen. Guest should be physically able to pull themselves back up in the kayak or swim to shore with the kayak to empty it of water.  Please note that to participate, guests must be a minimum of 5 years of age and not exceed 250 pounds. Guests will be required to sign a waiver to participate.
***Note: Women who are pregnant may not participate. Guests with heart,lung or back problems may not participate. Guests who have been drinking alcohol or under the influence of drugs may not participate***
Guests should consider their physical fitness level and medical history when determining whether this activity is appropriate. Guests with cardiac conditions, asthma, diabetes, epilepsy, other heart or respiratory conditions and/ or previous back or neck injury or any other medical condition should take particular caution when selecting this activity. Guests who have concerns should consult with their personal physician before engaging in any activity that may be strenuous for them.